TIME TO MASTER THE NORTH LONDON FACE OF OLYMPUS.....
In mid-April myself, Tosh and Joey (driving) hopped on a ferry to Holyhead in Wales. We then drove those couple of hours up the beautiful Welsh coast, then under the Mersey to collect Shaun in Liverpool. A quick chicken sandwich and a lovely cuppa courtesy of Tosh (sandwiches) and Linda (Tea & biccies) and we were on the road to London. Just before we left Shaun's the la-la-la-la-la-la lovely Linda snapped the pic below.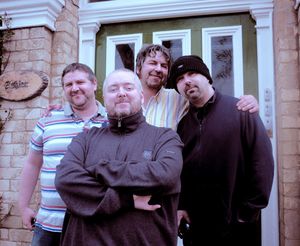 PUGWASH by LINDA - 2011.
We then arrived on the Monday evening to our palatial wobbly rubber hotel (we always get them but we secretly love the mad ones to be honest). We all narrowly avoided hospital climbing the winding darkened bent 8 flights of stairs to our convex rooms and settled down to some kip, which was much needed after a long days travelling, (well done Joey) because in the morning we were off to ABBEY ROAD to master our album!! It's always very special and a very proud moment as we're there on merit and not as paying tourists. There's a BIG moral and professional difference I can tells ya'. Fancy getting a Pugs-Eye view of coming up to Abbey Road to work? (Apologies for the nervous silly voices and bad camera work by me!)
After the customary full English brekkie for the carnivores and scrambled eggs for Shaun in the Abbey Road canteen we then had to get our heads down and put the icing on 'The Olympus Sound' cake and working with uber masterer Sir.Geoff Pesche is always a dream from start to finish. Geoff mastered 'The Duckworth Lewis Method' album and the last Divine Comedy one so he's now a well established part of our sound and a really good friend. He did his thing.....and we nailed it!!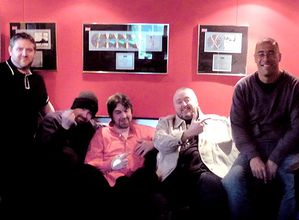 THE PUGS AND SIR. GEOFF PESCHE - ABBEY ROAD 2011.
As is customary in the 'Road', after the work is done.....you go hunting!! Studio 1 & 3 are always amazing to pop in to but I think you know where I'm going here.....yes - STUDIO 2!! We popped our heads in of course and it never ever fails to give me that feeling of taking a piss in the sea when I was about 8 years old. You know that feeling..don't pretend you don't..!!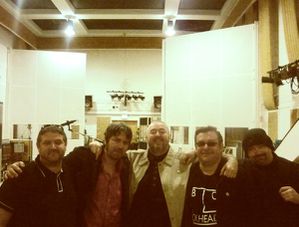 WITH OUR MATE, COMEDIAN PAUL PUTNER - STUDIO 2.
So there you have it - Pugwash - Abbey Road - Mastering - The Olympus Sound - DONE..!! See you soon guys 'n galls. xxxxx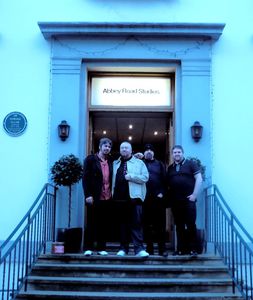 "AND IN THE END....." - PUGWASH LEAVING 'THE ROAD'.