MORE INSIGHTS INTO "THE OLYMPUS SOUND".....
Firstly.....thank you so much for the wonderful and kind reaction to 'Blog One'. It's now inspired me to do..ehm.....'Blog Two'..!! This time I'll reveal more incredibly unsensational nuggets of truth about the recording of our new album 'The Olympus Sound' which we don't have an exact release date for just yet but what I can tell you is that the album will be mastered at 'Abbey Road' two weeks from today and we will be putting a track to radio in Ireland later this month or very early May.
Joey Fitzgerald..our highly experienced 'skin basher'.....
The track we'll push to the front of the line with proud parental pop joy looks most likely to be 'Answers on a postcard'. We did think this track had the most instant FM potential (Ahh FM, remember that?) but your lovely reaction to the snippet I posted did push our initial beliefs over the edge, so thank you for the help..!!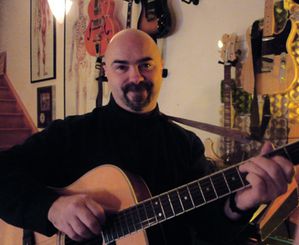 Shaun McGee plays bass and sings like Gene Clark..we kid you not!!
When records reach their conclusion the feeling of relief, achievment and sheer joy can be overwhelming. It can also just be another excuse to put the kettle on and have your 12th cup of tea that day, try out that exotic biscuit you've been eyeing up whilst your supposed to have been listening to the mixes or have another smoke!! (I nearly refered to smoke there as 'fag' but we have a lot of American friends here. Ohh..I did say 'fag', twice now, but it's in brackets so it doesn't have the same effect as saying 'fag' un-bracketed. Ohh..I've said 'fag' 3 times now.....ohhhhhh that's 4..!!).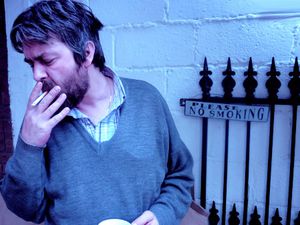 Irony is the lowest form of metallic substance..'Tosh by me' 2011.c
So.....the end of an album? Well I captured just a smidgeon (which, incidentally, is another word for a smitten pigeon..true!) of what it's like on my primitive camera. In the background of the clip you'll hear the end of another album track 'Fall down' and featured in the footage are Tosh & Joey (on the couch), Fergal Davis (Album engineer and all round lovely bloke) and me. If you don't know who I am I've posted a picture below.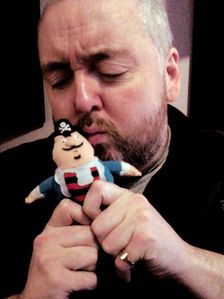 Me.....
So anyway that's 'Blog Two' ladies & gentlemen. I hope you continue to enjoy them as much as I do bringing them to you.
Love & Mercy.....xxxxx